Cartas en apoyo del Observatorio de Calar Alto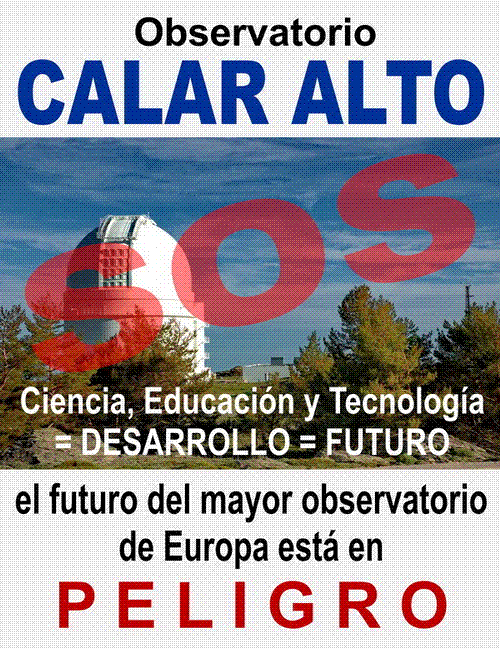 La Sociedad Astronómica Granadina solicita a todos los astrónomos aficionados, profesionales y aquellas personas que apuestan por la investigación científica como clave para el desarrollo y futuro de un país, que manifiesten su apoyo al Observatorio de Calar Alto enviando por correo ordinario una carta al presidente del CSIC, cuyo formato se puede descargar según se especifica a continuación.
Cartas en apoyo del Observatorio de Calar Alto

Cartes en suport de l'Observatori de Calar Alto

Support letters for Calar Alto Observatory
En castellano:
Cartas dirigidas al Presidente del CSIC en apoyo del Observatorio de Calar Alto.
Pueden enviarse a título individual o colectivo. Para individuos hay versiones en pdf listas para su firma y envío por correo postal ordinario. Para colectivos puede ser más conveniente usar la versión modificable (formato doc) y adaptarla a las necesidades de cada entidad. Personas individuales pueden usar también la versión modificable y alterarla a su gusto, si así lo prefieren (esto puede ser especialmente adecuado para remitentes de fuera de España). La dirección de destino consta en las propias cartas.
En català:
Cartes adreçades al President del CSIC en suport de l'Observatori de Calar Alto.
Les podeu enviar a títol individual o col·lectiu. Per a individus hi ha versions en pdf llestes per a la signatura i enviament per correu postal ordinari. Per a col·lectius pot ser més adient fer servir la versió modificable (format doc), per tal d'adaptar-la a les necessitats de cada entitat. Persones individuals podeu fer servir també la versió modificable i adaptar-la a les vostres preferències (això pot ser especialment indicat per a remitents de fora d'Espanya). L'adreça de destinació hi consta a les pròpies cartes.
In English:
Letters to the President of the Spanish Higher Council for Scientific Research (CSIC) in support to Calar Alto Observatory.
The letters may be sent by individuals or by groups. For individuals, there is a ready-to-sign pdf version, to be sent by ordinary postal mail. For groups, it may be more convenient downloading the editable version (doc format) and adapting it to the needs of each entity or association. Individuals may download the editable version to adapt it to their needs as well. The destination address is stated in the letters themselves.